RONNIE MILSAP AND JO DEE MESSINA HAVE CONFIRMED FOR 2021 WILD BILL DAYS!
JUNE 18 & 19, 2021
Wild Bill Days – Deadwood, South Dakota
Celebrate the life and times of one of Deadwood's most famous gunslingers—Wild Bill Hickok. See big name artists and your favorite bands perform live concerts on Main Street all weekend long.  You will also be able to view the concerts on the big screen at Outlaw Square1 Headline concerts in 2021 are Ronnie Milsap on Friday, June 18 and Jo Dee Messina Saturday night, June 19. Along with the awesome free concerts, you can also check out the National Dock Dogs Competition, watch (or participate in) a classic car auction, learn the tricks of gold panning and sluicing from Northern Hills Prospectors, right on Main Street! Book Your Room Today! Call 1-800-999-1876 for more information. ** All times are subject to change due to weather or technical issues.**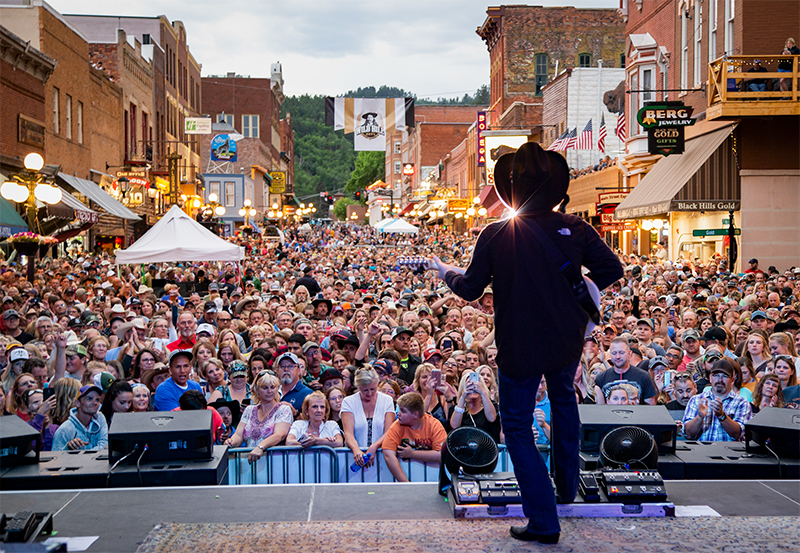 ---
Friday, June 18, 2021:
5 p.m. start – Sidehackers
6:15 p.m. The Lonely Rangers
8 p.m. Ronnie Milsap
Saturday, June 19, 2021 Lineup:
Noon start – Trial of Jack McCall
1 p.m. Flannel
3 p.m. Dakota Country
4:45 p.m. Sidehackers
6 p.m. Brandon Jones
8 p.m. JoDee Messina
---
DOCKDOG COMPETITION
Wild Bill Days has something for all tastes and ages – and something for the dogs! National DockDogs Competition will be back for its 13th year! All dogs are welcome! Call (330) 241-4975 or email [email protected] for more info or to get signed up.
This event is FREE to watch and located in front of the Historic Franklin Hotel. Registration and practice at 10am both days. Events include Big Air and Speed Retrieval. Competitions begin every 1.5 hour starting at 11am.
---
GOLD PANNING & SLUICING
Main Street – 10am to 5pm, Friday & Saturday, June 18 & 19
Learn to gold pan and sluice on Historic Main Street! Lessons are free. If you'd like to pan "pay dirt" there is a fee.
---
WILD BILL DAYS COLLECTOR CAR & MEMORABILIA AUCTION
Saturday, June 19 beginning at 10am
This 7th annual auction is held inside Deadwood Mt. Grand's event center. McPherson Auction is planning to sell nearly 75 high quality and unique classic cars and memorabilia! Do you have a car you'd like to list? Contact McPherson Auction & Realty at 605-348-1369.
Classic Car Auction check-in at lower level of the Deadwood Mountain Grand from noon to 5pm on Friday.
---
WILD DEADWOOD READS
Love to read?
Come to the 4th annual Wild Deadwood Reads book fair at the The Lodge at Deadwood on June 19th from 10 am to 3 pm! In attendance will be more than 70 authors from all over the country, including bestselling and award-winning authors of every genre—romance, historical, Christian, children's, mystery, thrillers, Western, non-fiction and more. You will be able to find something for everyone in the family to enjoy.
Our MC, actor and cover model Michael Foster, will oversee the show. Michael has been featured in many movies and television shows including Walking Dead, Lethal Weapon, and the upcoming theatrical release, Wolf Hound. Attending authors include bestselling authors T.S. Joyce, Suzan Tizdale, and Cynthia Woolf as well as many local authors. Cover models Robert Kelly, Jonny James, and Blake Sevani will also be in attendance.
Be sure to visit our website, https://wilddeadwoodreads.com/, for a complete list of all the authors that will be at Wild Deadwood Reads.
There will be numerous giveaways and prizes.
Tickets for some amazing raffle baskets to benefit the Shiloh Horse Rescue of Deadwood will be available for purchase at the event.
Admittance is FREE so bring the whole family and find your new favorite books and authors.
Multi-Author, Multi-Genre Book Fair
Saturday, June 19th, 2021 from 10 am to 3 pm
WildDeadwoodReads.com for more information
---
WILD BILL MOTORCYCLE CLASSIC
MOTORCYCLE CLASSIC, DEADWOOD, SD
In the days of Wild Bill, horsepower meant something much different from what it does today. Ride into the Wild West with some modern-day horsepower and enjoy camaraderie and free entertainment!
Poker run registration is $20!
FREE entertainment is being held as a part of Wild Bill Days, and Wild Bill Motorcycle Classic participants are invited to join the party! Exclusive Main Street parking is available to Motorcycle Classic participants.